Fresh evidence published in The BMJ shows vertebroplasty has no benefit for osteoporosis related vertebral fractures under 9 weeks old.
The results of the VERTOS IV trial from The Netherlands and the US are in direct contrast to the multicentre, randomised, double-blind, placebo-controlled trial VAPOUR trial published in The Lancet in 2016 that demonstrated "clinical efficacy for vertebroplasty in reducing pain from osteoporotic spinal fractures of less than 6 weeks when compared with a true placebo control".
The study involved 180 adults aged older than 50 years, with 1-3 painful vertebral compression fractures of up to nine weeks old. Participants were randomly assigned to either vertebroplasty (n=91) or the sham procedure (n=89).
The primary outcome measure was mean reduction in pain scores measured using the visual analogue scale (VAS) at one day, one week, and one, three, six, and 12 months after the procedure. 
Clinically significant pain relief was defined as a decrease of 1.5 points in VAS score at baseline.
Results showed that the mean reduction in VAS pain score was statistically significant in both groups at all follow-up points after the procedure, compared with baseline.
However, these changes in VAS scores did not differ significantly between the groups over the 12 month follow-up period. Vertebroplasty also had no effect on quality of life or on disability, the research team reported.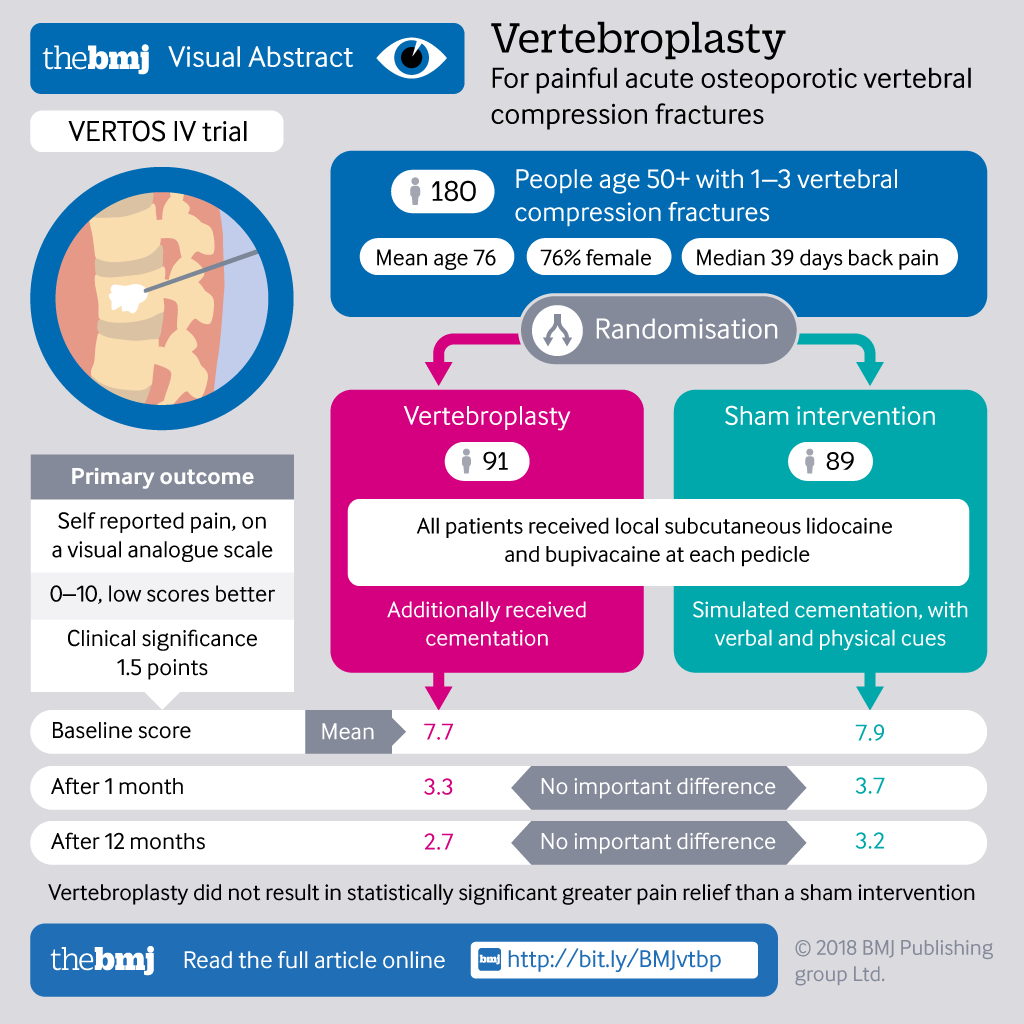 According to the authors there is a place for vertebroplasty "when efficacy outweighs the risks," but concluded that these results "do not support using percutaneous vertebroplasty as standard pain treatment in patients with acute osteoporotic vertebral compression fractures."
Writing in a linked editorial Evan Davies, a consultant spinal surgeon at Southampton General Hospital, in the UK said the trial suggested that vertebroplasty "should not be offered to patients with three or fewer painful osteoporotic vertebral fractures of less than 6-9 weeks' duration". 
However, he said questions remained on its place in the management of chronic painful fractures, and, more specifically, whether cement augmentation has any role in the prevention of long term morbidity and mortality.
"Future trials should take full account of the comorbidities that often accompany osteoporotic vertebral fractures in older patients. All too often surgeons and radiologists consider the fracture fracture as an isolated injury rather than part of a bigger and much more complex of compromise that caused the fracture in the first place," he advised.